News Archive

SMFA ART SALE
11/6/2018


The work, The balcony, 60 x 24" will be in the SMFA ART SALE
---
Group Show: Dream Art
9/16/2018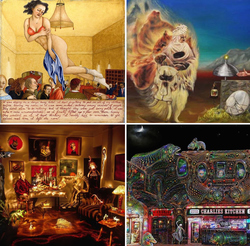 Dream Art
A Group Show of Five Artists' Nighttime Voyages
at Outpost 186,
186 1/2 Hampshire St (Rear),
Cambridge, MA 02139
[center of Inman Square]
Sept 20-Dec 31st
Opening Reception Sunday September 23rd 2-4pm

Outpost 186 in Inman Square, Cambridge and its director Rob Chalfen are hosting a show, Dream Art: A Group Show of Five Artists' Nighttime Voyages. The exhibit is curated by Deirdre Barrett, a dream researcher at Harvard Medical School who is a Past-President of the International Association for the Study of Dreams. The art features a wide variety of mediums: painting, photography, digital art, and animation—all depicting narratives of the night. Art will be viewable during the opening and closing receptions and ahead of all musical and other events at the venue. Check http://www.outpost186.com/ for the complete schedule.


Two of the artists work from their own dream images:

Sawool Kim, who received her MFA in interdisciplinary art at Tufts-School of the Museum of Fine Arts, also has a current solo show at the Child's Gallery, Boston. Kim is a lucid dreamer, and her pieces in the present show depict narratives derived from her experiments with lucid dreaming.

Deirdre Barrett represents her dreams with digitally manipulated photographs: "I find the latest computer imagery programs perfect for evoking the oneiric world's fantastic entities and magical events," Barrett observes.

The other three artists in the show represent the dreams of others:

Ruth Lingford teaches animation at Harvard. This show represents the east coast premiere of her film "Trump Dreams," which has been showing in festivals from Europe to South America. Lingford has collected a surprising range of dreams about Donald Trump and accompanied them with whimsical imagery that resembles rapidly morphing woodcuts. Lingford sees animation as especially well-suited to dreams: "Like the dream, animation speaks the language of condensation and distortion," she says, "The animated image tends to be freighted with multiple meanings."

Renowned local artist Tabitha Vevers' paintings in this show are based on flying dreams she collected from people of all ages and walks of life. "The very tangible sensation of over-coming gravity makes these dreams memorable to many people," Vevers reports, "Taking note of the almost universal gratitude expressed in the retelling of the dreams, the paintings are done as ex-votos (Mexican devotional paintings), giving thanks for the miracle of flight."

Paul Weiner's photos have been shown in hundreds of juried shows and appeared in Photographer's Forum, Photo Review and Photo Metro. The present portraits of artists in their studios shows how he imagines their dream life. Art connoisseurs may recognize favorite New England artists in Weiner's images.