SOLO EXHIBITION
8/22/2018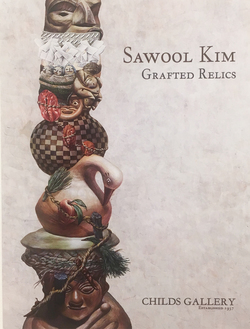 SAWOOL KIM
GRAFTED RELICS

SOLO EXHIBITION
SEPTEMBER 6 - November 11, 2018
CHILDS GALLERY BOSTON

Opening reception with the Artist will be held on
Thursday, September 6, 6-8 pm

Sawool Kim's surreal, dream-like paintings fuse cultural relics with flora, fauna, and everyday objects. Her lastest body of work explores transcultural identity through the visual metaphor of botanical grafting, a horticultural technique whereby the shoot of one plant is joined to the stock of another to create new, hybrid growth. Kim mirrors this process in her paintings, visually grafting diverse cultural images to create new meaning. Inspired by her recent travels to South America, Kim's complex, interwoven compositions incorporate artifacts from Pre-Columbian cultures, including Nazca, Moche, and Chancay ceramics.